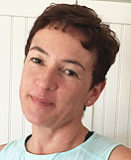 "Yoga has helped me find the true me, uniting my energetic self with my calm and peaceful being".
Teresa had been practicing yoga for over fifteen years when she decided to deepen her practice, and share her love of yoga with others.
She has a bachelor's degree in computer engineering, a master's in art history, and is a graduate of the 200-hour Teacher Training program at Dragonfly.
An avid cyclist, hiker, swimmer, dancer, and watercolor artist, she he loves it when her students tell her they have discovered a new, deep level of relaxation.
In her classes you'll find a well-balanced flow and a calm and friendly environment.