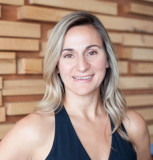 Passionate yogini. Funny. Intense lover of music.
" I thought I found yoga, but in reality, yoga found me. And through it I have found my true Self." –Jen FelcanSmith
Yoga has always been a part of Jen's life, especially in her younger years when she danced.  As her yoga practice evolved, it became her passion–something she couldn't wait share with others.
Jen completed two teacher trainings in Chicago, with intense focuses on alignment, kinesiology, history and varied yoga styles. She is RYT 200 certified, constantly expanding her knowledge, and loves to practice within the community.
Her classes are challenging, flowing, warmhearted, safe and geared towards all levels. She strives to have students leave class feeling better physically, mentally and spiritually. Jen focuses on alignment appropriate to the individual, and loves to create dynamic sequencing.  She also works through weaknesses and builds up strengths, furthering each student's practice with safety, humor and compassion.
"When I'm not on my mat, you can find me with my loves: my kiddos & husband, music, singing/dancing, musical festivals, running, nature, traveling and most importantly…laughing. If you happen to see me moving along to music during class or even at the grocery store, just know…I'm in my happy place!"