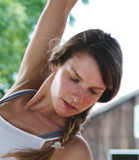 Grounded spirit. Yoga traveler. Cowgirl.
For Christianna, yoga is a way of life. It is not an isolated hour or two spent on the mat.
Christianna completed her 200 hours in India at Tuladidalam ashram. She went hoping to lengthen her tight hamstrings and to learn to stand on her head, yet she received a spiritual experience and a lot of self love. She continues on her path with Janet Stone, and finished up her 300-hour program with JSY in Bali. She sought Janet to learn to be a better teacher, but what she learned was how to become a better student. Christianna teaches what she practices, allowing it to emanate from her own experience. She recently moved to Livermore from San Francisco to run a retreat center on her family ranch. You can learn more about her at yogachristianna.com and her ranch at reinsteinranch.com.